The Spoken Mage Series

If you enjoy strong heroines, fantasy worlds, adventure, intrigue, and romance, then try the Spoken Mage series now, starting with Voice of Power.


Reading Order
Voice of Power

(Book One)

Voice of Command

(Book Two)
And coming in 2019:

Voice of Dominion

(Book Three)

Voice of Life

(Book Four)
---
Voice of Power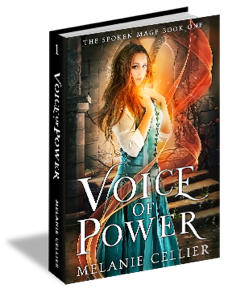 In Elena's world words have power over life and death--but none more so than hers


As the daughter of shopkeepers, Elena has always known that the mysteries of reading and writing were closed to her. Only the mageborn can risk harnessing the power unleashed from putting pen to paper. Until Elena discovers an impossible new ability and joins the elite ranks of the mages.

But with the kingdom at war, the authorities can't agree if Elena is an asset, or a threat they need to eliminate. Thrust into the unknown world of the Royal Academy without friends or experience, Elena will need all of her wits, strength, and new power to carve a place for herself.

Except as the attacks become more personal, wits and strength won't be enough. Elena will have to turn to new friends and an enigmatic prince to unlock the mysterious potential of her words and survive her first year as a trainee mage.


---
Voice of Command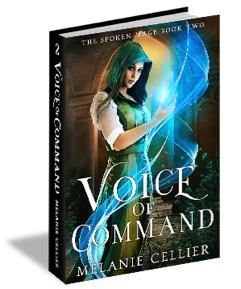 Elena has found the power in her voice--now she must decide how to use it

Finally accepted as a mage, Elena struggles with her commonborn roots. And when disaster strikes the kingdom, she can't shrug off the death toll as the mageborn have always done. Yet the limitations of her spoken magic hold her back—both in saving lives among the people and in competitions in the Academy's arena.


In desperation she turns to an unlikely source of assistance—Prince Lucas. But just as she begins to master her powers, she finds herself the pawn of stronger forces.

With everything she's struggled for almost within her grasp, she must decide what—and who—is worth sacrificing to come into her full power and take her place among the mages.

---
Voice of Dominion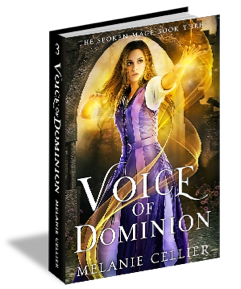 Elena has survived her first two years at the Academy, but can she survive a third when it means facing the front lines of a war?


Coming on April 20, 2019

Pre-order at the Kindle Store
---
Subscribe to my mailing list
to be kept updated—on new releases, sales, and giveaways.